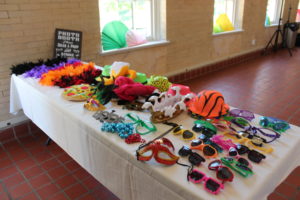 People love photo booths because they are tons of fun, and props are a key part of that fun. We know this at least as well as anyone, which is why we pride ourselves in having the largest prop selection in the area full of fun stuff.
Our prop box is included with all rentals (unless requested otherwise) and is stocked with dozens of novelties.  While there is always some variation in what we have as we replace items and find fun new props, we will always bring a collection of silly hats, feather boas, novelty glasses, and of course mustaches – lots and lots of mustaches. During the holiday season, we also stock Santa and elf hats and other Christmas-y and holiday style props.
Don't Forget a Table for the Props!
With so many items, we highly recommend having a table available to spread the props out. Usually a standard 8 foot long or 6 foot round table will work well. If you are ordering a memory book with the rental, this will also require some table space, so the aforementioned 8 foot or 6 foot round table would be a bare minimum.
If you have a themed event where you want to have specific props, you have two options – you can request us to bring certain props (which may incur an additional fee) or you can bring your own. We have a pretty extensive inventory of stuff so the things you want us to bring may be already available, but if not we can sometimes accommodate requests at no additional cost or for a small fee. If you want to bring your own props, some great sources for props are Party City, Hobby Lobby, or Etsy which has tons of options if you've never shopped there.
Also Available … Custom Props!

We also now have the ability to make custom props! Want people to have your company logo at a corporate event or opening! Can do! A sign for your wedding's hashtag? Also, possible. Just let us know what you're looking for and we can probably make it. In some cases, depending on time and complexity, an additional charge may be required.
While you don't need props to put together a great photo strip, it certainly doesn't hurt, as this photo strip clearly shows.