Flash Cube Photo Booths offers customized photo booth rental packages for the Cincinnati/ Northern KY region available for any special occasion such as weddings, birthdays, proms or business events. Our booth is of excellent quality and we offer competitive rental pricing. If our standard offering doesn't work for your event's needs, let us know and we'll put together a custom package for you.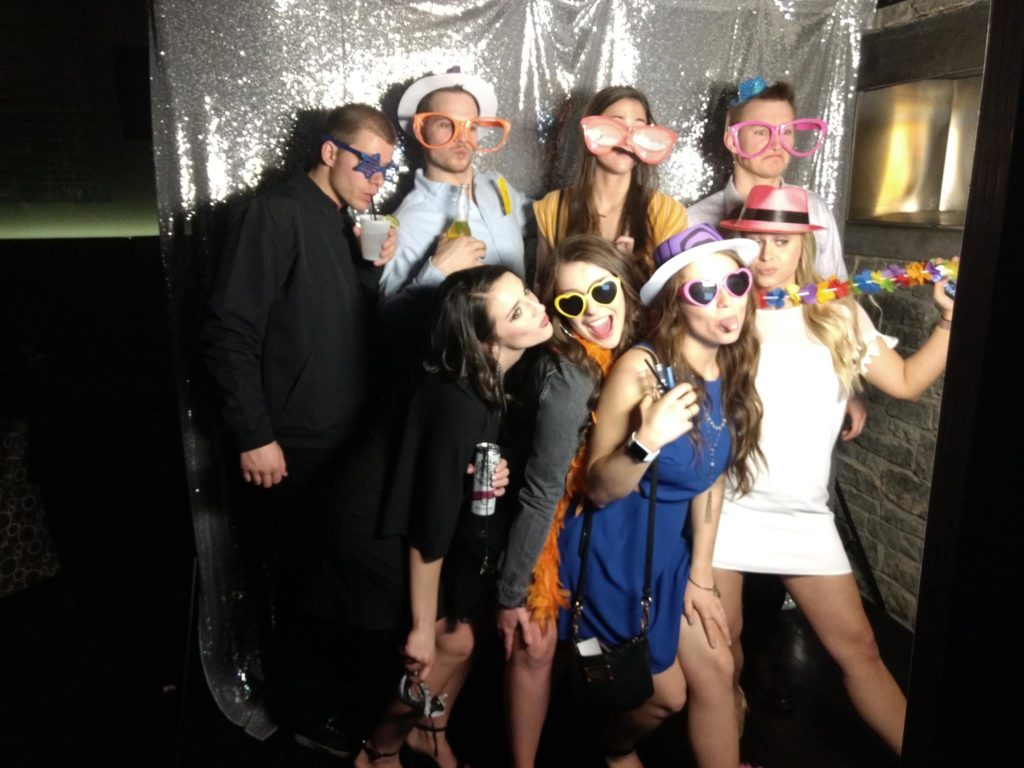 Standard Photo Booth Package
We pride ourselves in offering great service at affordable rates. Our standard photo booth rental service starts at $595 for four hours for Saturday events. Events on other days of the week can be even lower.
. This package includes the following:
4 Hours of Photos
Set-up and breakdown of the photo booth
Unlimited use of photo booth for guests (Up to 75 sessions per hour!)
On-site trained technician assistance
Double 2×6″ print of every photo session (4×6″ prints also available)
Color or Black & White prints
Customized layout on Photo Strip, ie Jack and Kate's Wedding, August 3, 2020
Digital download or Facebook album of all photos – originals and photo strips!
Add-On Services
If you wish to extend the use of the photo booth, we charge $100 an hour on Saturdays. You can as well request different backdrop styles or designs to make the booth more personalized. Contact us with anything you have in mind, or check out our standard and past customized backdrops.
A popular add-on for weddings and other major life events is our memory book service. This packages photos from the booth along with messages from guests in a 12×12″ photo album. This is available for $85. To learn more or see previous books, check our our memory book page.
You and your guests will enjoy the experience of one of our photo booths as we use the finest equipment. All of our booths contain an 18 megapixel DSLR camera which makes every shot crisp and clear. With this kind of high-end camera, you are guaranteed that each image is captured in fine detail. During your renting hours of our booth, all of your guests are free to use it and capture as many photos as they want.
The printer within the booth makes high quality photo paper prints, quickly producing wonderful images for your guests to enjoy almost immediately. It uses dye-sublimation technology and photo paper, which gives your professional quality prints. No more waiting in line because every photo print is delivered within about 20 seconds.
Wide Photo Booth Prop Selection
Our props selection is second to none in the area, plus we can add some according to your party theme or depending on your own preference. We have a large selection of props choices that will add more fun into your guests' photo booth experience. We cycle through props quickly, so we typically can take requests to personalize the props for your photo booth; so if you have any prop or costume idea in mind, don't hesitate to tell us and we'll find ways to make it happen! We also recently acquired a Cricut machine, so we can even make custom props no one else has.
We want you to enjoy worry-free the unique experience of having a photo booth on your party or event; hence every rental from us comes with an on-site attendant that will offer assistance to make sure your guests will be able to maximize the use of the booth. Our professional and friendly attendants will be around to guarantee that the booth is functioning well for the entire period of your rental. They will also guide and explain to your guests how to use the booth well including how to find their photos online or to share their photos.
Create memories and mementos with our photo booth rental at your reception or party. Contact us now to rent one of our photo booths.