Receptions Fairfield is one of the four event centers in the 27 year old Receptions chain. Located in a shopping center on the east side of Fairfield, between Jungle Jim's and I-275, this large space has several rooms capable of hosting events, including a chapel to hold a wedding ceremony.

The space is divided up into four large rooms and a few smaller rooms. The four large rooms have removable dividers so that you can combine two, three, or even all four rooms for very large events of over 1,000 guests. The Buckeye and Butler Rooms form one wing of the center, sharing an entrance and bathrooms. The Fairfield Room and Ohio Room form the other wing, sharing bathrooms and the main entrance to the lobby. A third entrance is next to the State Room, which is frequently used for wedding ceremonies.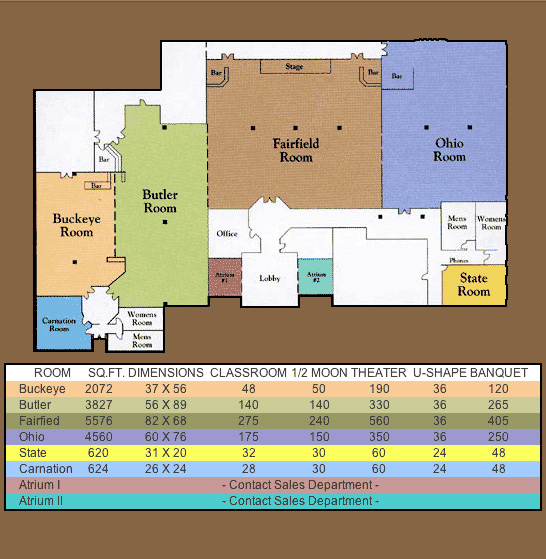 Details of Receptions' Event Spaces
The four main rooms (Buckeye, Butler, Fairfield, and Ohio) are perfectly sized for most weddings, with a banquet seating capacity from 120 to 405 people. The Fairfield Room, easily the largest room. It features a built in stage, two built in bars, high ceilings with chandeliers, wood wainscotting and neutral walls and ceiling. It is directly accessible from the large, attractive lobby.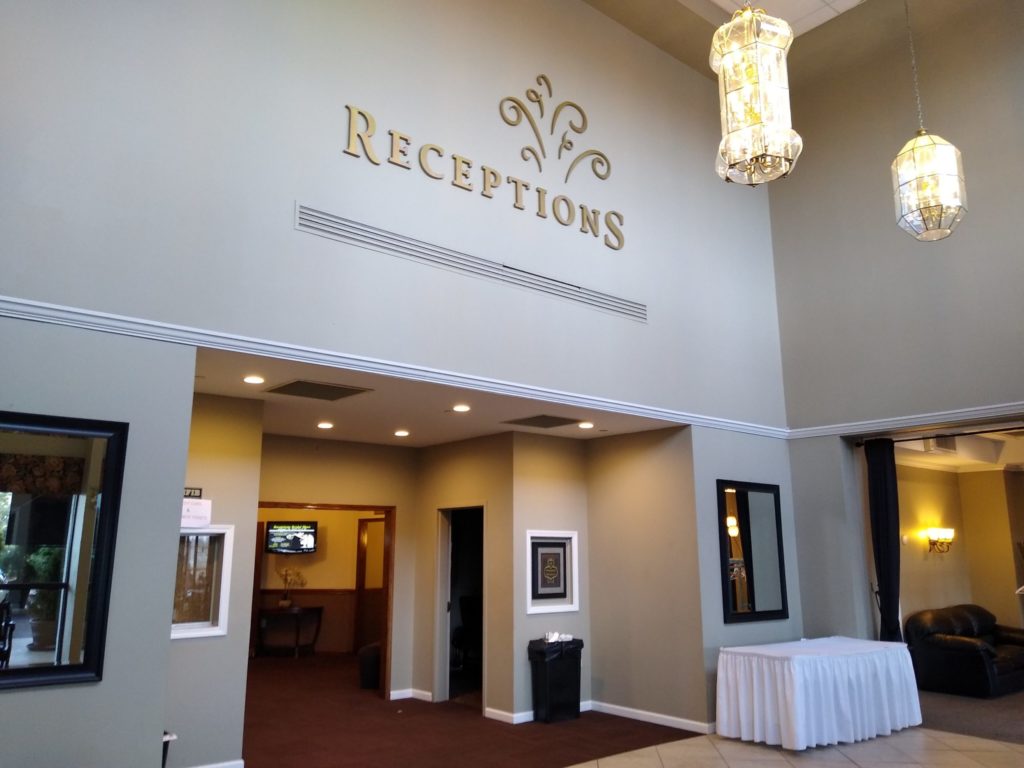 The Ohio and Butler Rooms are the next largest spaces, both with around a 250 person capacity. Both have a single built in bar, high ceilings with chandeliers, and a neutral color scheme to personalize for your event. The smallest reception space is the Buckeye room, with a capacity of 120. It also features the high ceilings and chandeliers, along with a large and attractive bar.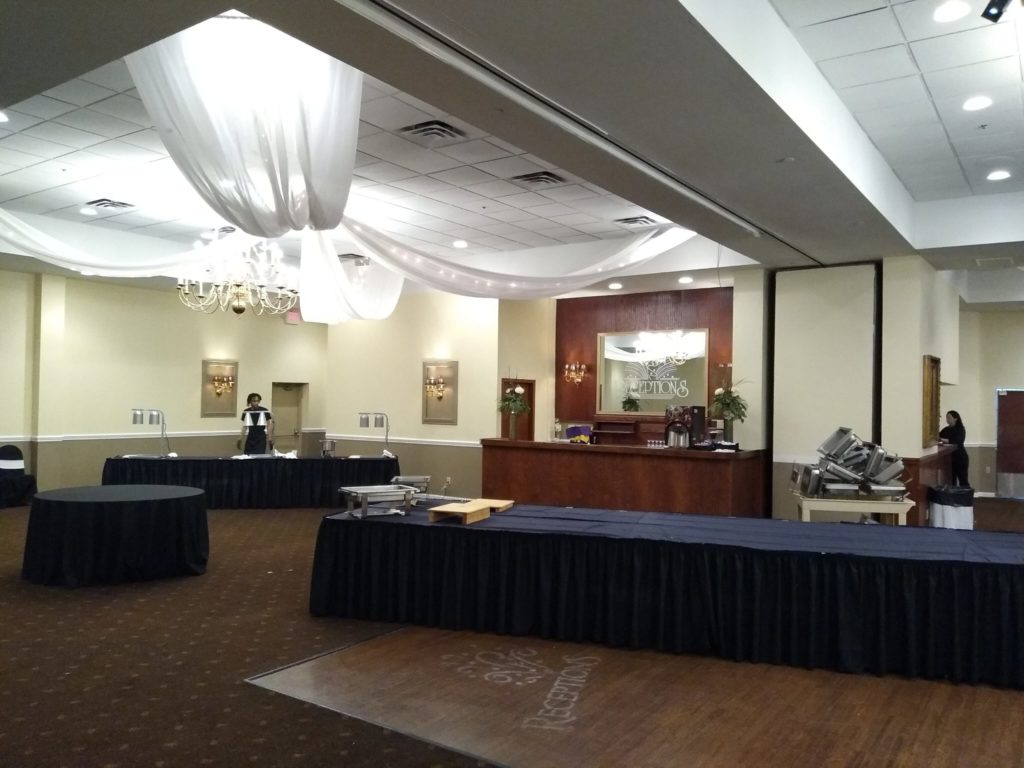 Finally, the small State Room can be combined with another room to create a space often designed to hold wedding ceremonies. With a capacity of around 150 when set up in this configuration, it allow you to host the wedding and reception in the same building without turning the room over afterwards.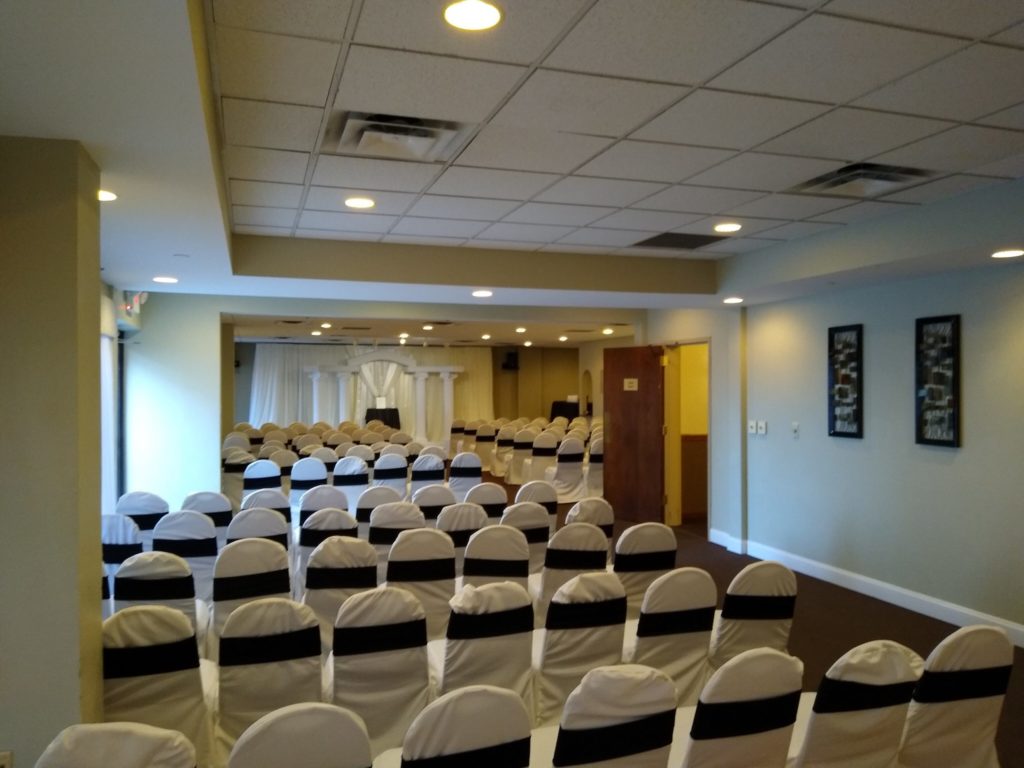 Details and Features of this Receptions
Receptions of Fairfield is accessibly off of Route 4, just north of the I-275 Exit. Ample free parking is available in the parking lot in front of the center, as well as in an overflow lot across Boymel St. Hotels are in ready supply around Fairfield and nearby I-275 exits and Sharonville, OH. All catering and alcohol must be purchased through the venue, though outside wedding cakes are allowed.
Home of the Receptions Bridal Show
The Fairfield Receptions also serves as home to the annual Receptions Bridal Show, which happens every year in January. The show features 70 different vendors and attendees can even win a free reception. It's one of the best shows in Cincinnati.
Details
Receptions Event Center – Website
5975 Boymel Dr
Fairfield, OH 45014 
513-860-4100