The Southgate Community Center is an affordable reception space in Southgate, KY, just south of Newport. Situated in a city park with ample parking, their Large Hall can seat up to 300 people (the small hall has a capacity of 75). While the interior design is pretty basic, the hall does have two dramatic walls of windows looking out into the park, which provides an attractive view. As it is a wide open floor plan, there are a wide variety of options and styles you can use for the layout of your reception.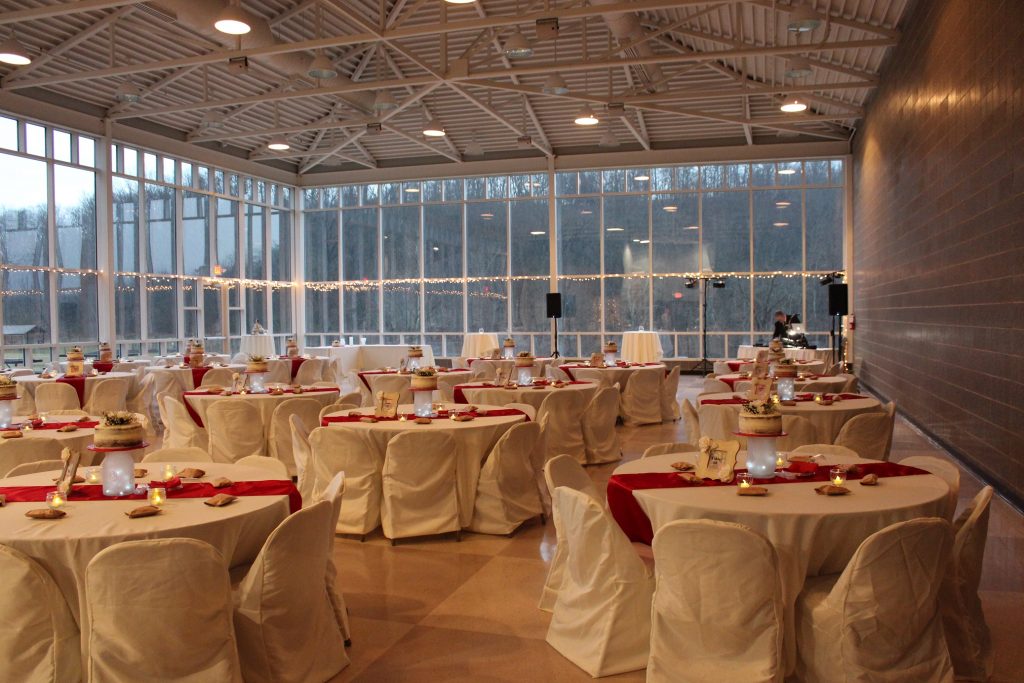 As you might expect from a recently built government building, this venue is very handicap accessible, with everything being level with the sidewalk and entryway out front. The space comes with a well equipped kitchen and bar, though all alcohol must be brought in and bartenders provided by outside services. Catering options are wide open as well – no in-house caterers at this venue.
Affordable Northern KY Reception Hall
Much like the similar Fort Thomas Mess Hall, expect to do a bit of the legwork on setup and tear down yourself, if you want the deposit back anyway. You pay for each hour you have the space rented, so if you want all-day access, that will cost extra. However, a rental is just $600 as of this writing in March 2019, and additional hours are $150 each. Just be sure you rent enough time for your vendors – like the DJ and photo booth – to set up ahead of your reception
Bottom line – if you're looking for an affordable and/or unusually large space in Northern Kentucky – particularly if you're a Southgate resident, the community center should be on your list of venues to consider.
The center is in a residential area of the city, and not much as far as bars, afterparty locales, or hotels are in the neighborhood. However, Newport is just to the north with hotels, bars and restaurants, and there are hotels and more off of I-471 within a couple miles.
Details
Southgate Community Center
301 W. Walnut St
Southgate, KY 41071
859-781-8878
http://www.southgateky.org/community-center/large-hall (has a 3-D preview of space as well)