Northern Kentucky has dozens of fantastic wedding venues, ranging from historic to modern, cozy and intimate to spacious and cavernous, and affordable to high end. We aim to list as many spaces as we can here across the spectrum, including full write-ups of the spaces when we get a chance to visit. For the other side of the river, see our Cincinnati wedding venues page.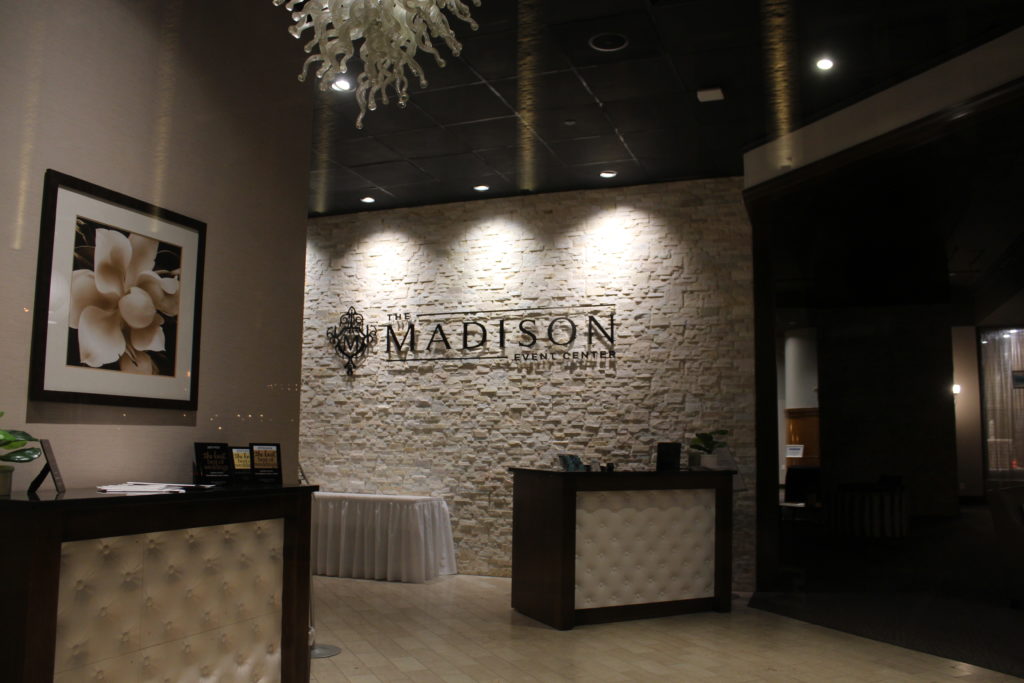 Madison Event Center – Covington, KY – Six rooms across four floors in a historic building in Covington's business district. Modern interiors with capacity up to 375 in the largest space.
Newport Syndicate – Newport KY – Two large rooms, seating 300 or 400+, with unique styling and details in central Newport. Operating for over 20 years, LGBTQ friendly.
Newport Aquarium – Newport, KY – Did you know you can hold your wedding – ceremony and reception – in the aquarium? Definitely one of the more unique locations in the Midwest, let alone the Cincinnati area, many couples decide to get married in front of the shark tank. Flash Cube is the preferred photo booth vendor for the Newport Aquarium.
Fort Thomas Mess Hall – Fort Thomas, KY Historic reception hall, formerly served soldiers stationed at Fort Thomas when it was a military base. Now serving as the community center, this historic brick structure in beautiful Tower Park is one of the most affordable venues around. Seats up to 340 as well.
Purple People Bridge – Newport KY – Another incredibly unique "venue," if you can call a bridge that, to hold your wedding ceremony or reception. Your wedding can straddle two states, 75 feet above the mighty Ohio. As an outdoor venue, you'll likely want to get tents. It takes some work to get everything planned to use this venue, but it's surprisingly affordable.
Southgate Community Center – Southgate, KY The Southgate Community Center is another afforable city-owned reception space, seating up to 300 in the Large Hall. Attractive minimalist space situated in a city park with a well-equipped kitchen and bar.
The Carnegie – Covington, KY Covington's historic Carnegie Library, converted to a community arts and theater space that's also available for rent. Air conditioning has never been added to this building, so rentals are only available in the fall, winter, and spring.
Pinnacle Ballroom – Covington KY A beautiful historic ballroom on the top floor of a historic downtown Covington Building. Sharing the building with the equally beautiful, larger Grand Ballroom, the Pinnacle has a 250 person capacity on a single L-shaped floorplan.
Tower Room, New Riff Distillery – Newport KY Yet another unique space situated in Newport, New Riff Distillery has two rooms available for rent, the larger, more wedding sized (160 people) room being the Tower Room. New Riff's spaces are beautiful modern spaces. Ample parking, and easy access just off I-471.
The Florentine Event Center – Florence KY A large space on the west edge of Florence near Union, the Florentine can seat 275-350 people depending on the seating arrangement. It's kind of tucked back in it's space, behind the UDF at Pleasant Valley Rd and US-42
Stone House Farms Wedding Venue – Demossville, KY Stone House Farms is a classic Kentucky barn wedding venue. This family-owned venue repurposed their old tobacco barn into what they call a "shabby-chic" space. Space for 250 people and 80 cars inside, plus outdoors space for vows.
More Venues
We are adding more venues as we visit new places, but even more reviews and information can be found at Wedding Venues Northern KY.